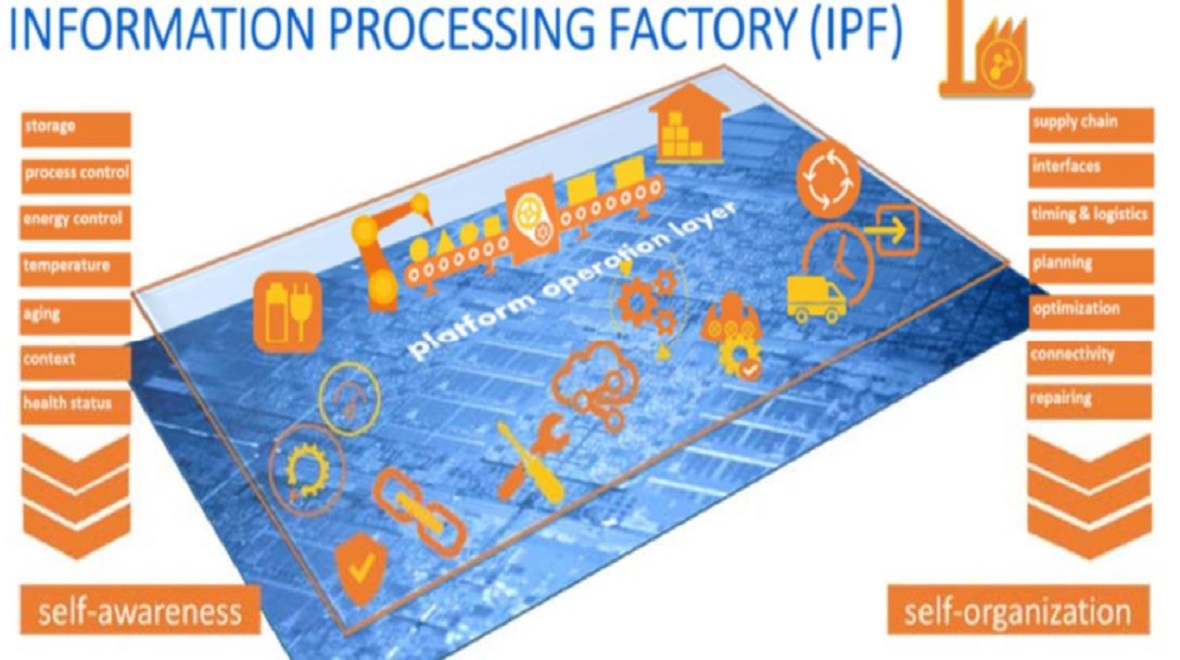 IPF
The project introduces the notion of a self-aware Information Processing Factory (IPF) as a step towards autonomous Multi-Processor System-on-Chip (MPSoC) platforms in Cyber-Physical Systems (CPS) and the Internet of Things (IoT). IPF represents a paradigm shift in platform design, with robust and independent platform operation focusing on futuristic platform-centric design, rather than the traditional focus on semiconductor devices and software technology. Emerging CPS and IoT application domains exhibit several-orders-of-magnitude increase in complexity, both in the number of objects, as well as in their dynamic and unpredictable interactions. Systems are increasingly becoming autonomous and demand a radically new strategy to conquer and control this runaway complexity. The project exploits self-awareness principles, together with lessons learned from large-scale factories to contain complexity, achieve predictability and manage robust system design. The overall research theme will demonstrate the utility of self-aware IPFs in managing MPSoC complexity, while achieving scalability, predictability, and system efficiency, with the long term goal of supporting autonomous systems as a main application.
Current PhD Students:
Related Publications:
2022
Demand Layering for Real-Time DNN Inference with Minimized Memory Usage Inproceedings
2022 IEEE Real-Time Systems Symposium (RTSS), pp. 291-304, 2022.
ProSwap: Period-aware Proactive Swapping to Maximize Embedded Application Performance Inproceedings
2022 IEEE International Conference on Networking, Architecture and Storage (NAS), pp. 1-4, 2022.
Exploring computation offloading in IoT systems Journal Article
Information Systems, 107 , 2022, ISSN: 0306-4379.
Hybrid Learning for Orchestrating Deep Learning Inference in Multi-user Edge-cloud Networks (Best Paper Award) Inproceedings
2022 23rd International Symposium on Quality Electronic Design (ISQED), pp. 1-6, 2022.
Online Learning for Orchestration of Inference in Multi-User End-Edge-Cloud Networks Journal Article
ACM Transactions on Embedded Computing Systems (TECS), 2022, ISSN: 1539-9087.
2021
Energy-Efficient Adaptive System Reconfiguration for Dynamic Deadlines in Autonomous Driving Inproceedings
24th IEEE International Symposium on Real-Time Distributed Computing, ISORC 2021, Daegu, South Korea, June 1-3, 2021, pp. 96–104, IEEE, 2021.
MARS: Middleware for Adaptive Reflective Computer Systems Journal Article
CoRR, abs/2107.11417 , 2021.
Reflecting on Self-Aware Systems-on-Chip Inproceedings
A Journey of Embedded and Cyber-Physical Systems - Essays Dedicated to Peter Marwedel on the Occasion of His 70th Birthday, pp. 79–95, Springer, 2021.
SEAMS: Self-Optimizing Runtime Manager for Approximate Memory Hierarchies Journal Article
ACM Trans. Embed. Comput. Syst., 20 (5), pp. 48:1–48:26, 2021.
2020
Self-Adaptive Memory Approximation: A Formal Control Theory Approach Journal Article
IEEE Embed. Syst. Lett., 12 (2), pp. 33–36, 2020.
Self-aware Cyber-Physical Systems Journal Article
ACM Trans. Cyber Phys. Syst., 4 (4), pp. 38:1–38:26, 2020.
Emergent Control of MPSoC Operation by a Hierarchical Supervisor / Reinforcement Learning Approach Inproceedings
2020 Design, Automation & Test in Europe Conference & Exhibition, DATE 2020, Grenoble, France, March 9-13, 2020, pp. 1562–1567, IEEE, 2020.
Dynamic iFogSim: A Framework for Full-Stack Simulation of Dynamic Resource Management in IoT Systems Inproceedings
2020 International Conference on Omni-layer Intelligent Systems, COINS 2020, Barcelona, Spain, August 31 - September 2, 2020, pp. 1–6, IEEE, 2020.
Intelligent Management of Mobile Systems through Computational Self-Awareness Journal Article
CoRR, abs/2008.00095 , 2020.
Self-Awareness for Autonomous Systems Journal Article
Proceedings of the IEEE, 108 (7), pp. 971–975, 2020.
2019
HESSLE-FREE: Heterogeneous Systems Leveraging Fuzzy Control for Runtime Resource Management Journal Article
ACM Trans. Embed. Comput. Syst., 18 (5s), pp. 74:1–74:19, 2019.
SOSA: Self-Optimizing Learning with Self-Adaptive Control for Hierarchical System-on-Chip Management Inproceedings
Proceedings of the 52nd Annual IEEE/ACM International Symposium on Microarchitecture, MICRO 2019, Columbus, OH, USA, October 12-16, 2019, pp. 685–698, ACM, 2019.
The information processing factory: a paradigm for life cycle management of dependable systems Inproceedings
Proceedings of the International Conference on Hardware/Software Codesign and System Synthesis Companion, CODES+ISSS 2019, part of ESWEEK 2019, New York, NY, USA, October 13-18, 2019, pp. 20:1–20:2, ACM, 2019.
The Information Processing Factory: Organization, Terminology, and Definitions Journal Article
CoRR, abs/1907.01578 , 2019.
2018
Trends in On-chip Dynamic Resource Management Inproceedings
2018 21st Euromicro Conference on Digital System Design (DSD), pp. 62-69, 2018.
Exploring Hybrid Memory Caches in Chip Multiprocessors Inproceedings
2018 13th International Symposium on Reconfigurable Communication-centric Systems-on-Chip (ReCoSoC), pp. 1-8, 2018.
SPECTR: Formal Supervisory Control and Coordination for Many-core Systems Resource Management Conference
Proceedings of the Twenty-Third International Conference on Architectural Support for Programming Languages and Operating Systems, ACM, New York, NY, USA, 2018, ISBN: 978-1-4503-4911-6.
Gain Scheduled Control for Nonlinear Power Management in CMPs Conference
2018 Design, Automation Test in Europe Conference Exhibition (DATE), 2018.
Design Methodologies for Enabling Self-awareness in Autonomous Systems Conference
2018 Design, Automation Test in Europe Conference Exhibition (DATE), 2018, ISSN: 1558-1101.
Design Methodology for Responsive and Rrobust MIMO Control of Heterogeneous Multicores Journal Article
IEEE Trans. Multi Scale Comput. Syst., 4 (4), pp. 944–951, 2018.
MEMCOP: memory-aware co-operative power management governor for mobile games Journal Article
Design Autom. for Emb. Sys., 22 (1-2), pp. 95–116, 2018.
2017
Guest Editorial: Special Issue on Self-Aware Systems on Chip Journal Article
IEEE Design & Test, 34 (6), pp. 6–7, 2017.
2016
SPARTA: runtime task allocation for energy efficient heterogeneous many-cores Inproceedings
Proceedings of the Eleventh IEEE/ACM/IFIP International Conference on Hardware/Software Codesign and System Synthesis, CODES 2016, Pittsburgh, Pennsylvania, USA, October 1-7, 2016, pp. 27:1–27:10, 2016.